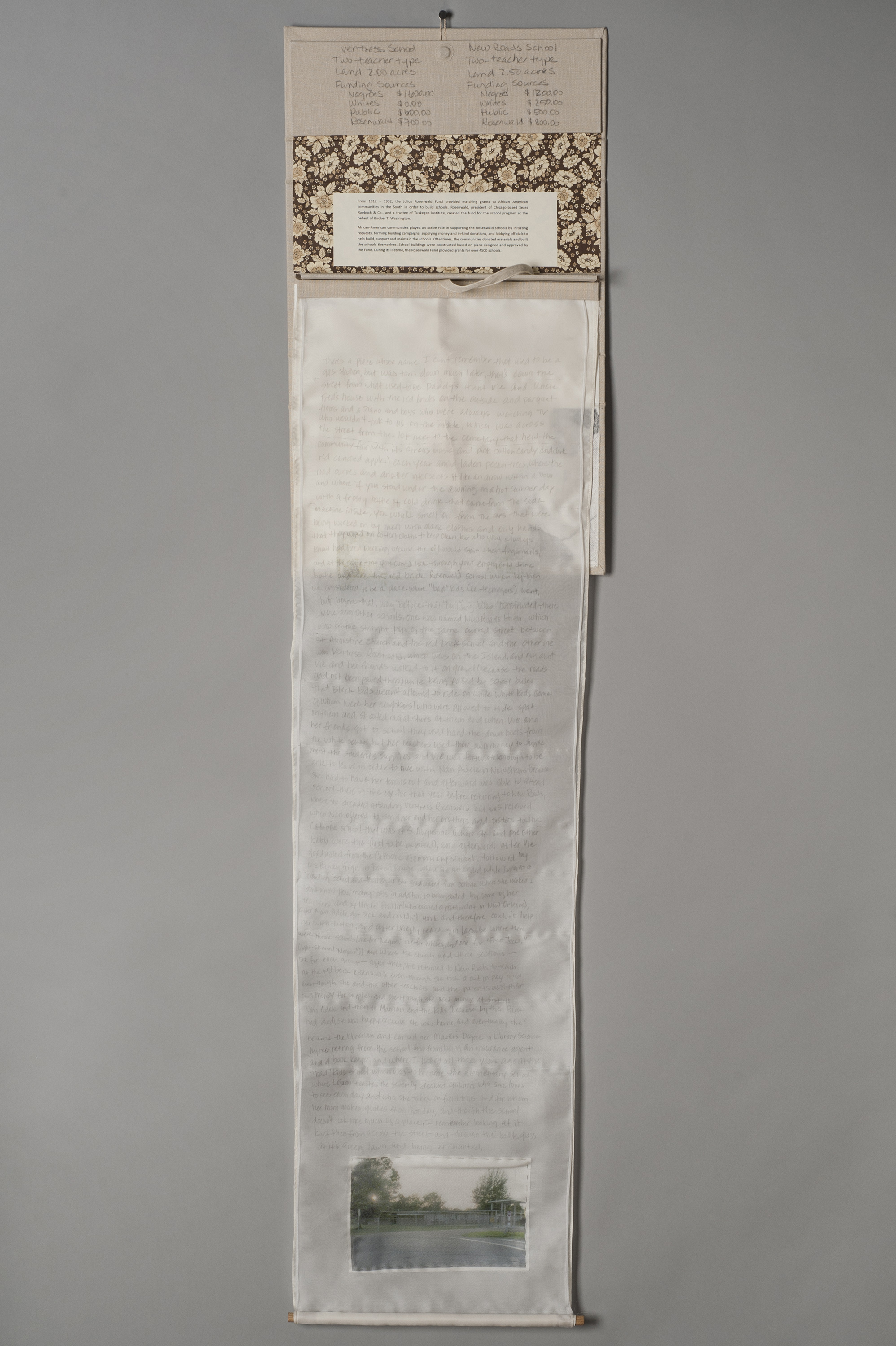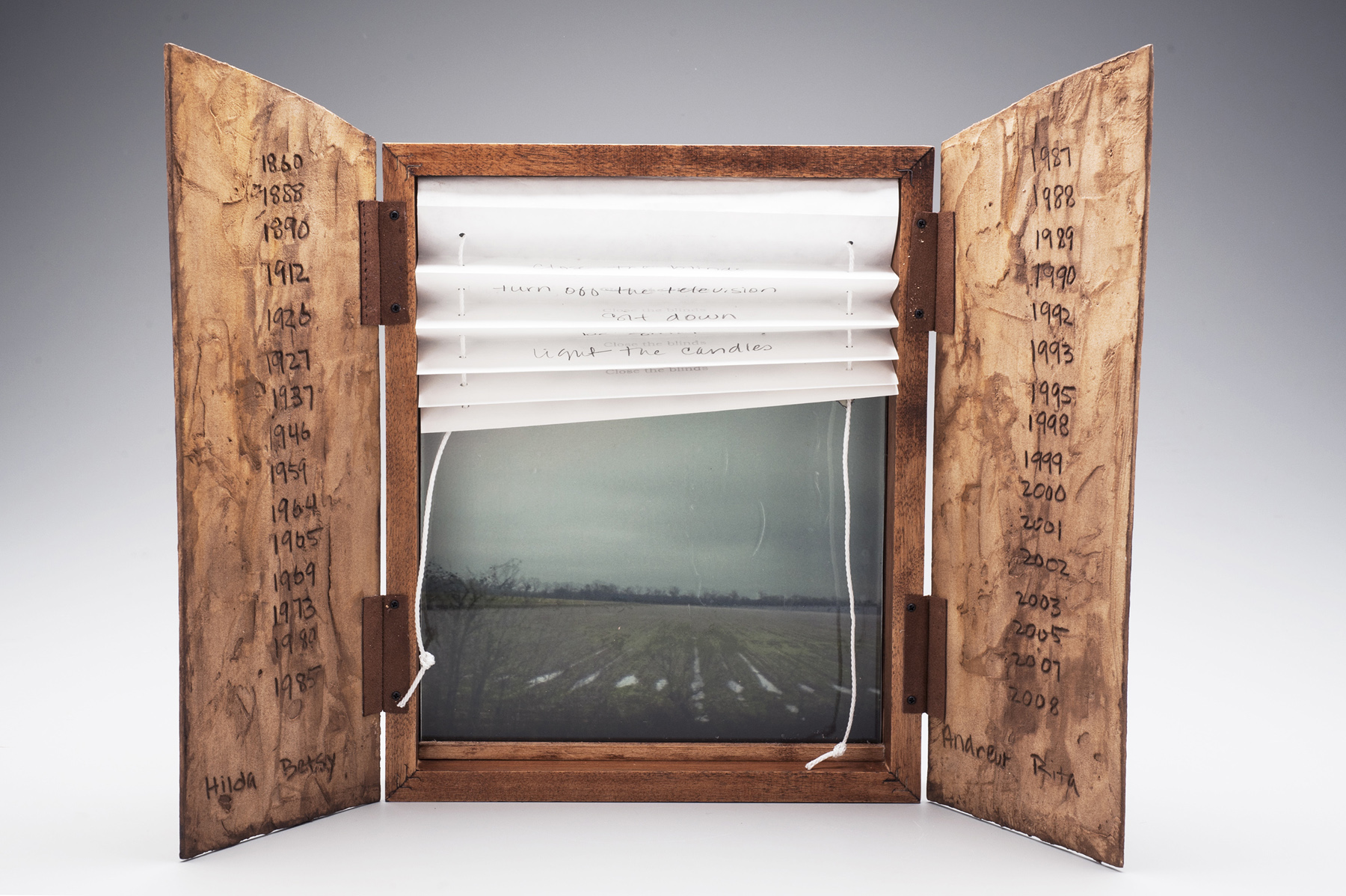 Nan
Imagine cleaning a closet and finding an unmarked box. It has a little weight to it and one can only guess what may lie within. Nan is constructed of handmade sugar cane paper and digital image transfers. It offers a glimpse of a "who" from long ago.
Nan
Size: 9" W x 6"x 4"
Media: Handmade sugarcane paper, cotton
Structure: Accordian with sutured cloth hinges, leather covers.
Unique
Armoire
Many pre-20th century homes lacked built in closets and furniture, such as armoires and dressers and cabinets were used to store clothing. Closets, by their very nature are memory keepers – even in the sparest environment they reveal something about the owner, and in cases where generations of owners have used them, closets can function as historical records. [cont.]
Armoire
As a child, the opportunity to peek into my grandmother's armoire was exhilarating – her armoire, like all closets seemed intensely personal and off limits. A look was usually accompanied by a story that brought to life persons unknown but not forgotten. Years later, my grandmother long gone, the armoire remains a repository of memory, culture, history, and tradition.
Armoire
Size: 11"H x 9.5" x 2.75" (closed); 11" x 9.5" x 7.5" (open)
Media: Mahogany, metal, fabric (cotton), commercial papers (cotton rag), thread, batting, graphite
Structure: Wooden box containing 2 mounted photos, 2 accordian books, and 1 scroll book
Poule Aye
Poule Aye examines the impact a sense of place has on one's identity. More than just saying where a someone is "from", it looks at how place and time influence the formation of attitudes, personal beliefs, and actions.
Poule Aye
The story presented in this bookwork is based on comprehensive interviews held with my dad. Poule Aye consists of one page, part of which is folded to form a "shotgun" style sharecropper's home and part of which contains a "field" of text. A backyard chicken coop and be viewed through the front door when the book is open.
Poule Aye
Size: 5.5" W x 7.5"
Media: Cedar, rayon paper, chicken wire, handmade fig leaf paper, Larroque Aquarelle watercolor paper, nail
Structure: Accordion with tunnel
Edition: 4
Rosenwald
From 1912 to 1932, the Julius Rosenwald Fund provided matching grants to African American communities in the South, for the purpose of building schools. Rosenwald tells the story of the importance that two such schools played in the lives of a family living in southern Louisiana. Told as a snapshot, the book recalls a story of hardship, determination and triumph.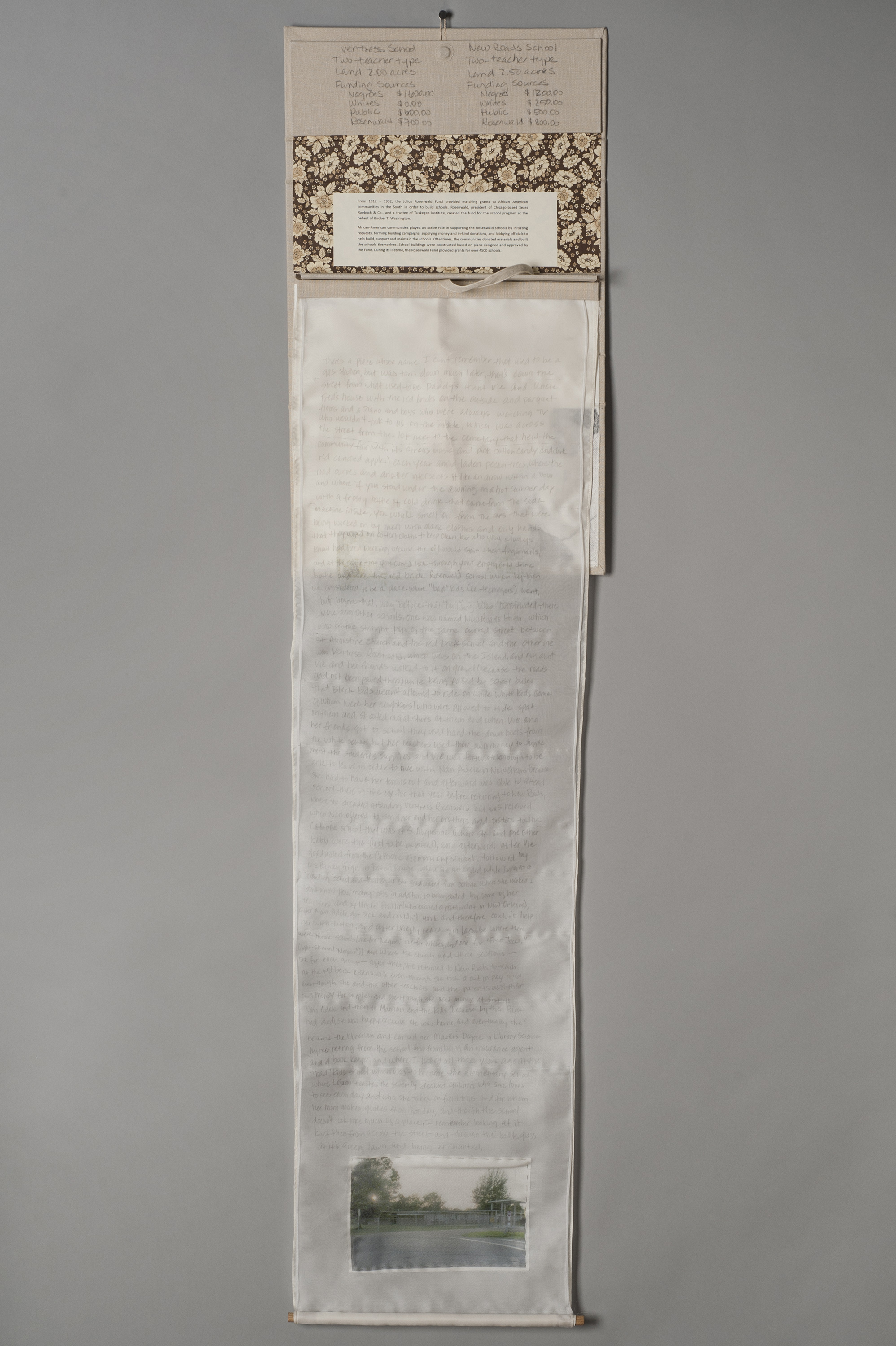 Rosenwald
During a trip to my parent's hometown in Louisiana, I passed by the spot where a gas station once stood. The story begins as I remember looking out across the street from the station years ago in that same spot, gazing at the school across the street. The image of the school sparks a flood of memories of family stories spanning two generations and is told in one sentence. The main character in the story is my aunt Vie, who was a teacher and then a librarian for the schools. While researching material for this book, I learned about the important role the Rosenwald schools played in the education of African Americans in the South in the early 20th century. I intended the book to be in a form that would allow it to be read by either unfolding it bit by bit to reveal the story, or hung on a wall and viewed in total.
Rosenwald
Size: 7"H x 12-1/4" x 2" (closed); 50"H (open)
Media: Linen (bookcloth), silk satin, silk organza, silk and cotton thread, glass, Bertini paper, Johannot papersilk tissue, linen book tape, graphite, oak
Structure: Sewn pamphlet with envelope wrap cover
Edition: 3
Storm Sequence
Katrina non-withstanding, Louisiana weather history is fraught with floods, tornadoes, hurricanes and other violent storms causing much damage and loss of life. Modern technology can offer little protection for those caught in them.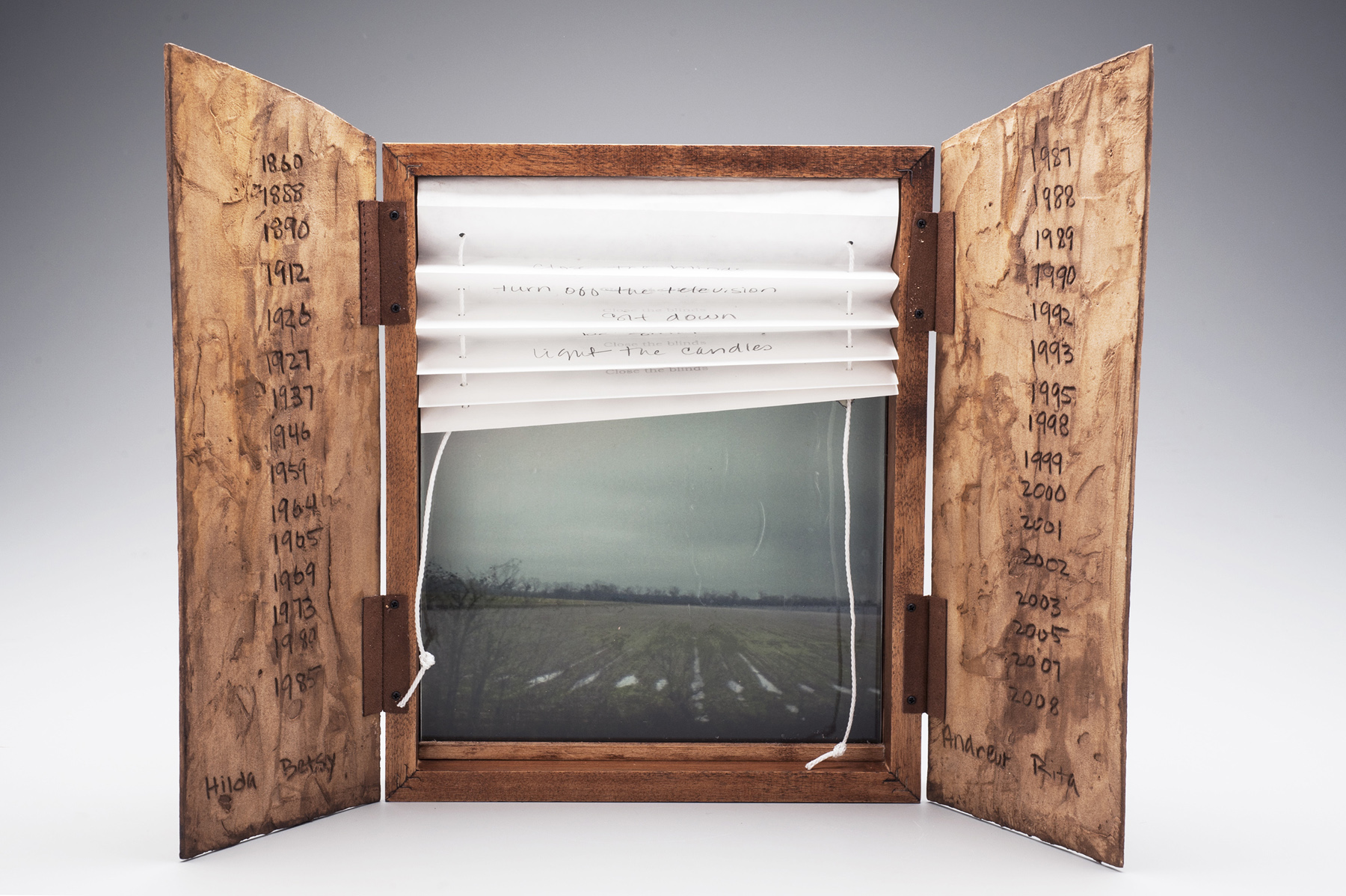 Storm Sequence
This book outlines the spirit of a ritual that my aunt would perform when the weather turned ugly. On an approaching storm, all would be called inside and though natives would consider the ritual a normal occurrence giving it little attention, being a visitor, I considered it to be a dramatic performance. Years later, I learned that my aunt was not alone in performing the Storm Sequence - it was practiced in some form by many in Pointe Coupee parish and possibly(probably) beyond. More recently, my aunt informed me that she still performs the sequence, though in an abbreviated format.
The book is loosely patterned after the homemade shrines observed in some of my relatives homes. The numbers on the inside of the doors are years of documented significant damage caused by storms in the area.
Storm Sequence
Size: 12.75" H x 9.25" x 1.75"
Media: Wood, bookboard, commercial papers, synthetic plaster, screws, glass, acrylic, oil
Structure: Accordion enclosed in frame with hinged doors
Edition: 5 + 1AP
Island Girl
I am interested in personal stories as they are often singular and universal. Island Girl re-tells a story of longing, rejection, acceptance and pride that my mother, who grew up on the False River in Louisiana, often told us.
Island Girl
Island Girls consists of cotton, digital prints and type, buttons and thread.
Island Girl
Size: 11" H x 15"
Media: Recycled cotton cloth, button, thread
Structure: Dress with pamphlet bound cloth pages inserted into skirt
Edition: 4
Emergence
Emergence is a book about examining truths in order to develop self-truths. The book consists of 3 pieces – Litany, a series of sayings that my sisters and I heard while growing up; Candle, containing an embedded medallion of St. Michael the Archangel; Election, a symbolic culmination – all relating to my family which hails from rural southern Louisiana.
Emergence
Size: 14.5" W x 7" x 3.5"
Media: Magnani pescia and Tengucho white commercial papers, handmade gampi and fig leaf papers, wood, beeswax, metal, linen, Plexiglas, ribbon, foam core
Structure: Two accordion books, candle, candle stand, inside wooden box with sliding plexiglass lid
Edition: 10
Essentia
Essentia is a bookwork consisting of 9 pages of handmade paper with human hair inclusions. Each page features an abstracted cameo created by removing pulp in selected areas.
Essentia
In Essentia, the intent is to present aspects of identity (who) by separating or removing the physicality (what).
Essentia
Size: 8" W x 10" each sheet
Media: Handmade paper (cotton), human hair
Structure: 9 Single Sheets
Unique