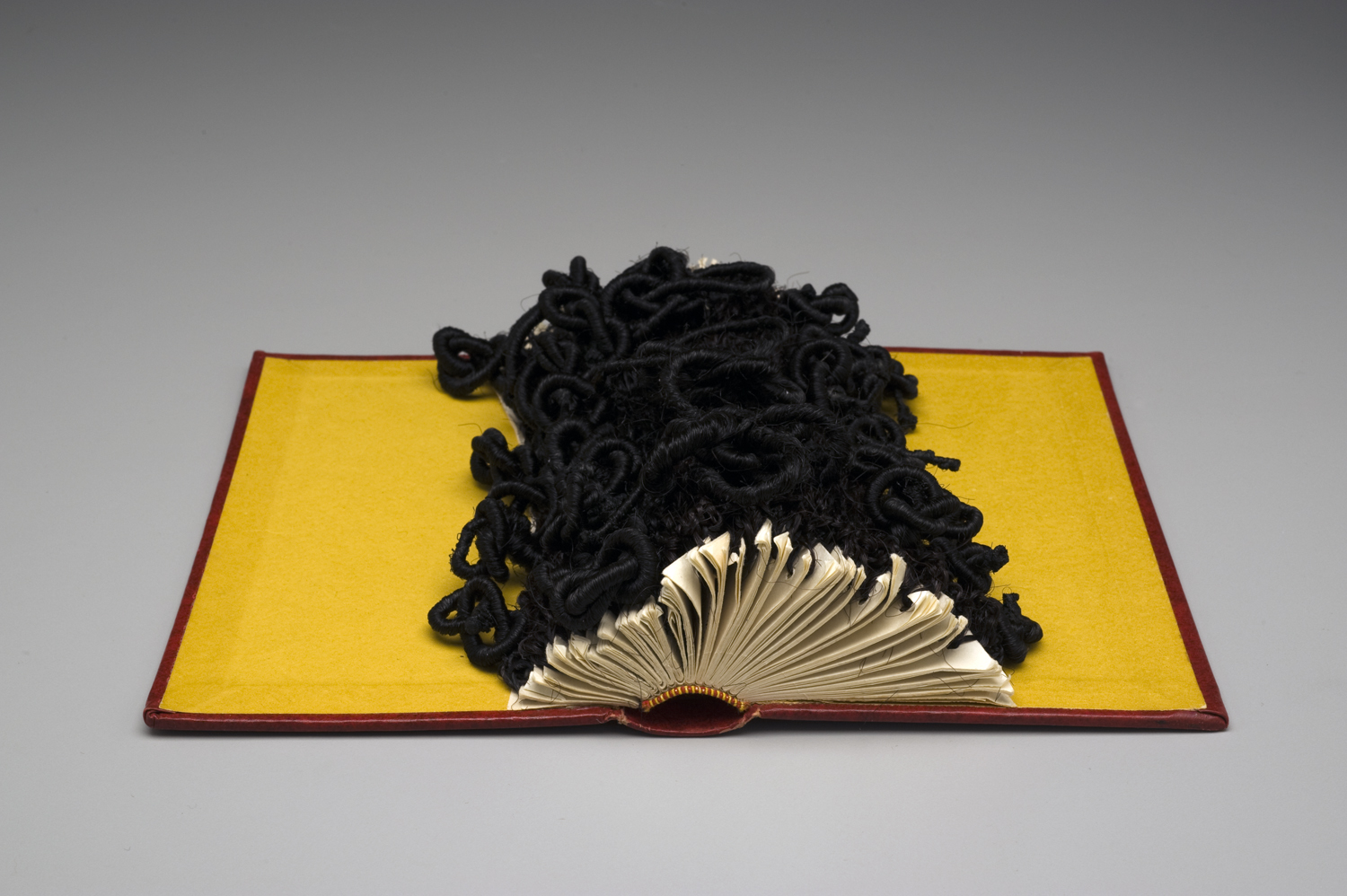 when is now
When Is Now features an essay that questions the appropriate time to expect equal footing and humane action for marginalized populations.
Edition: 4 unique "hairstyles"
when is now
Media: Synthetic hair, cotton and linen thread, balsa wood, linen, cotton, paper, wax
Structure: Sculptural hair crocheted or knotted into circular box. Text wrapper inside box top band. Pamphlet accompanies book.
(Shown: "Afro")
when is now
detail "Updo"
Size: 7.5" diameter, 4"H (closed)
Afrocentric
Afro Centric is a celebration of artistry in Black hair culture. It symbolizes the physical transformation of the outward appearance in order to make a statement. This statement moves beyond natural physical attributes and traditional "rules" about hairstyle and texture and often conveys political attitudes within micro-social structures.
Afrocentric
Media: Synthetic hair, handmade paper made of recycled paper and human hair, thread, linen cord, unknown commercial paper.
Structure: Circular Coptic binding
Unique
Bad Hair
Bad Hair addresses the issue of what is acceptable regarding hairstyle and texture. It is based on early struggles that many women of African descent underwent in order to gain acceptance of their natural (i.e. non-chemically altered) hair in the workplace.
Bad Hair
Though most of the women's styles were based on a fusion of traditional western and African hairstyles (ex. A braided bob style), the styles were considered unacceptable for work. In many cases, the women were either asked to change their hairstyle or were fired. Bad Hair features text from editorials and quotes relating to those who brought suit for being terminated by their employers.
Bad Hair
Size: 7" W x 10" x 1.5" 14" x 7" (open)
Media: Paper, canvas, graphite
Structure: Altered book with flag book insert
Unique
Bone Straight
At a very young age, many Black women in particular receive messages that their hair in its natural state falls outside the accepted standard of beauty. Though natural hair is currently accepted in broader circles, and straight hair is just another option, the underlying message often remains that natural hair is unacceptable.
Bone Straight
This book features excerpts of conversations with women about their hair straightening experiences including some of my own. The book is constructed of commercial papers, digital and letterpress type, synthetic hair, wood and a hot comb.
Bone Straight
Size: 11" H x 14"x1" 5"x 7"
Media: Paper, wood, synthetic hair, hot comb
Structure: Carved wooden tablet with synthetic hair and hot comb inclusion; Accordion book
Unique
Edges (Cornrow)
Size: 7" H x 9.5" x 4.5"
Media: Paper, Leather, synthetic hair
Structure: Altered book with crocheted edges
Edition: 4 unique styles
Edges (lace braid)
Edges is based on African/African ancestry braided hairstyles. Each book features a different "style." The pieces were created during a time when there was much political dialog on the national, state and local level concerning (illegal) immigration. Often the dialog took an underlying tone of intolerance and had little to do with immigration status. The tones of intolerance (which were cross-cultural), reminded me of growing up in the 60's and 70's during integration. The hair treatment symbolizes how much activity, creativity and life happens on the "edges" of mainstream society, regardless of whether or not it is recognized.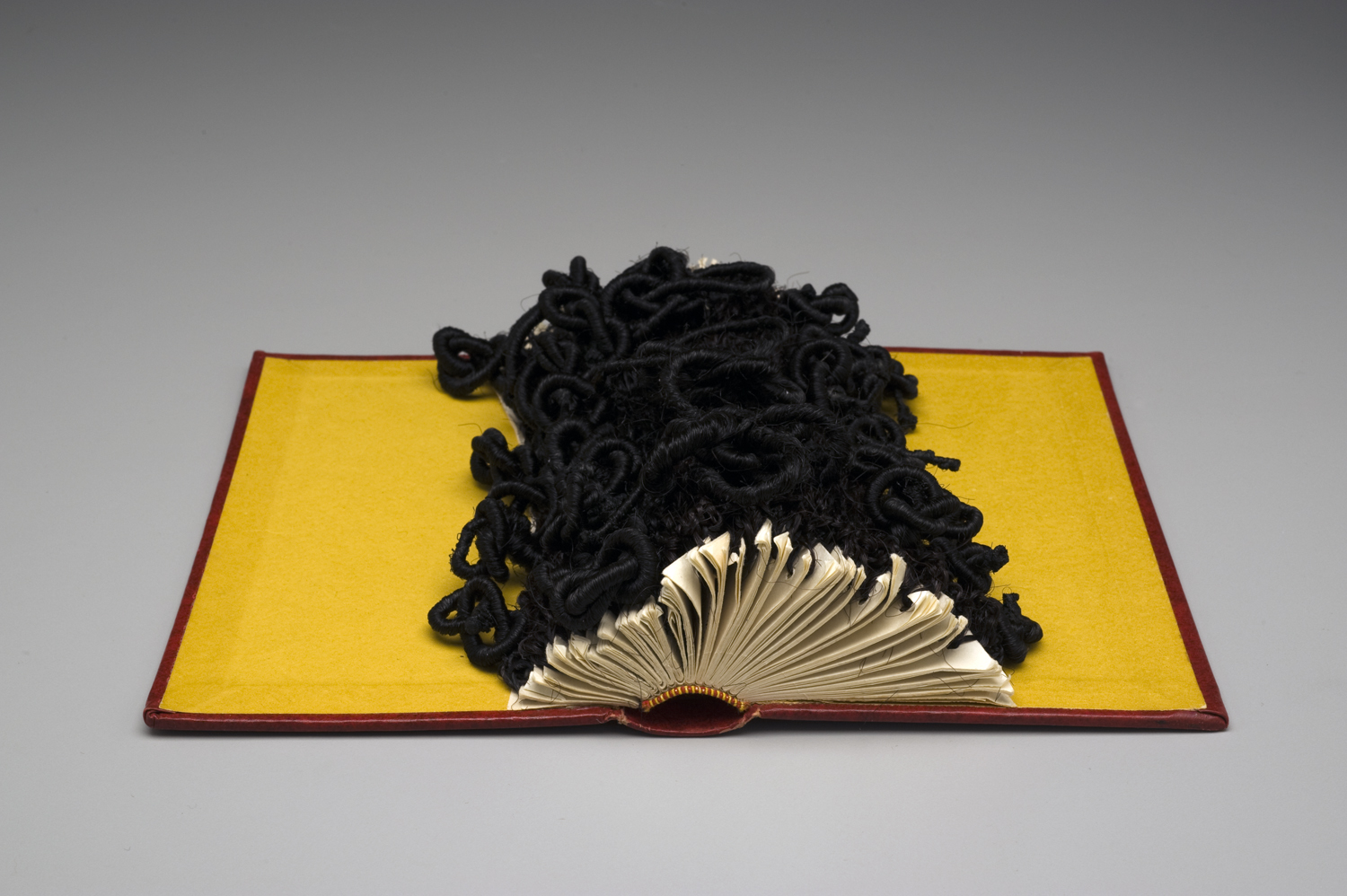 Air
Air considers intelligence (thought) and memory (identity). The text weaves three "stories" -- the background (large text) features the idea of creating the book Air. The background "idea" coalesces in the center of the book and takes flight in the tulle "cloud."
Air
The idea goes from background (graphite) to foreground (thread). The second story is about air as breath and wind. This story winds itself around the other two throughout the book. The third story is a series of vignettes featuring more concrete memories (freedom, wind, breath, flight) and are represented by the text "patches".
Air
Size: 10" W x 9.5" x 1.5" (closed); 21.5" x 9.5" x 1.5 (open)
Media: Silk (organza, net, organza satin), cotton (mull), thread (metal, cotton), graphite, inkjet, gouache, incense, button, tulle
Earth
Earth provides exterior, or outward appearance and interior views of a body (corpus) and bearer. Timing is planned so that movement through the book is slowed once the interior is reached.
Earth
This bookwork features stories about outward appearance of the physical body and those garnered through the senses, experience, and thought. Various scans are presented throughout.
Earth (Detail)
Size: 8" H x 9.25"
Media: Cotton muslin, cheesecloth, human hair, coconut bark paper, thread, buttons, batting, wire, tooth fragment, ribbon. Edition of 4
Structure: Modified French Door
Edition: 4
Integument
Physically and metaphorically, skin functions as a protective covering and plays a significant role in identity. Integument examines various meanings that can be contained in our skins. The front side of the accordion contains layers discussing the science of skin and how its topography has the potential to evoke memory.
Integument
There remains a barrier between "public" skin and "private" skin – that is, the division of scientific knowledge of the events that lead to a mark and what an individual thinks, remembers or concludes based on events that surround the mark. The reverse side of the accordion offers an example of the layers of meaning that can occur in an individual response.
Integument
Size: 4.75 H x 5" x 1.25"
Media: Handmade papers – subai, mitsumata, gampi, sugar cane, fig leaf, rice, straw, and flax; commercial rayon paper; cotton muslin; leather; thread.
Structure: Accordian with sutured cloth hinges, leather covers.
Unique
Integument (Cover Detail)
Knot
Size: 4" W x 6" x 1"
Media: Graphite, paper, thread
Structure: Pamphlet
Unique
Unseen
Unseen features layers of trace monoprints and a unique poem about invisibility.